It's Election Day in the USA: Where will you watch the results?
Estimated

2 min read
By
Ali Felski
on
Wherever you end up watching the election returns tonight, check out The Washington Post live election maps. We worked closely with The Post to build lightning fast maps that provide up-to-the-second data presented in a manner that is easy to understand.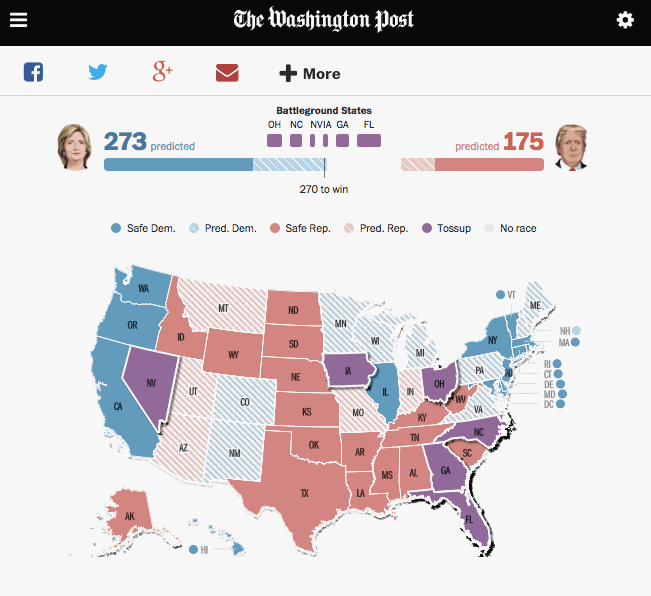 We iterated and improved our approach over 24 primary nights and we have introduced new features for the today's election. Here is some of what you can expect tonight:
Clear/informative coverage
The Post's live election maps take data from 532 races and organize it into an interface that is understandable at a glance but also allows users to explore the context and detail of this election. We include a live cartogram map, to overcome the disadvantages of traditional election maps and visually represent the electoral weight of each state. Also, after the states are called a wind map will show how the vote has shifted since the last election in each county for every race.
Updates and callouts to catch important moments
The interface is designed to make sure that you don't miss important updates, even if you look away from your screen. We pull in new data across roughly 3,000 counties, every 4 seconds, to show the freshest data possible. We've redesigned our "freshies" — callouts on the map that notify users of tightening races or new vote leaders.
Live maps are deployed throughout The Washington Post website. The Post's reporters and analysts will add additional news and analysis in their features and the Washington Post Live Blog, which you can read without taking your eyes off the results.
Coverage no matter where you are
Many people will track the election returns on the road or on multiple screens. The Post's maps are just as usable and fast on mobile. No matter where you end up spending this election night, be sure to take a look at washingtonpost.com to keep up-to-date with tonight's gripping election results.