Make Sense of Urban Change with Urchn
Estimated

4 min read
By
Derek Lieu
on
Say hello to Urchn! Urchn is a tool for urban change detection. It shows you how your city is changing, and helps you keep the map up-to-date.
Most urban planners use maps that are out-of-date. Maintaining an accurate map is a struggle for any city, but the ones growing the fastest often have the fewest resources to put towards mapmaking. These cities may also be the most vulnerable, and most complex for businesses and planners to operate in.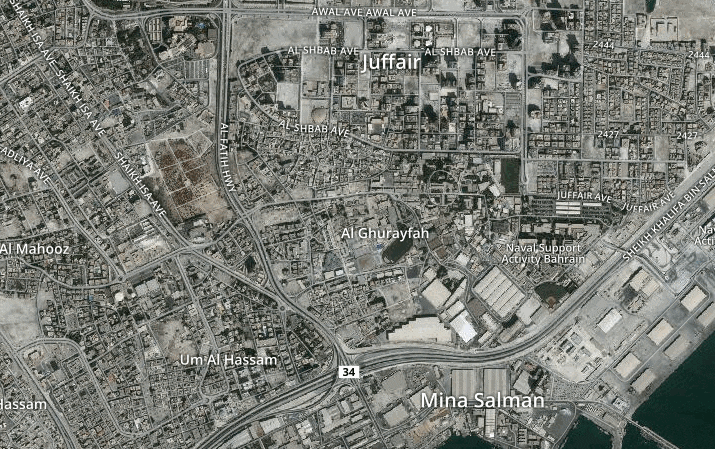 Two images of Bahrain taken a year apart. Can you spot all the changes?
High quality change for any city
Development Seed and Radiant Solutions are streaming data from satellites and crowd mapping to provide insight into urban change. Urchn starts with the best change detection data available. Our change data shows exactly where in your city has experienced meaningful, persistent change. A highly-queryable version of OpenStreetMap (OSM) and recent urban footprint provide context. The result is a tool that shows how and where urban areas are changing. This has huge potential to drive better decisions and change how people think about cities.
Yellow is persistent, detected change; white polygons are buildings mapped in OpenStreetMap; and blue polygons are OpenStreetMap buildings that have not been edited since a detected change.
An up-to-date map
Maps can be incomplete, out-of-date, or both. Either issue can contribute to poor planning, from bad routing to inadequate policies. Urchn shows where map data is accurate, and where it is lacking. While the default is OpenStreetMap, you can also upload your own geospatial data to determine where it is out of date — and where OSM may be better.
To identify areas where development has rendered a map out-of-date we run spatial analysis on change data against mapped features. Using the date of last edit, we can call out areas where we think the map needs attention. This is particularly useful in dense urban areas that were already mapped before change occurred.
To identify places where the map is lacking, we overlay high-resolution urban extent to highlight areas where there should be more on the map. This can help distinguish between areas that are poorly mapped, and ones that just aren't developed.
The pink urban landuse classification distinguishes between areas that are undermapped, and those that are not developed.
Understanding change at scale
Not everyone needs to understand change on the same scale. A hobbyist mapper may be interested in the areas around their home, work, and playspaces. A city planner relies on data at a municipal level to analyze broader impact.
Communicating the extent of change at various scales is a central design challenge. Using Mapbox GL, we show individual occurances of change over a high-resolution urban map. As you zoom out, we aggregate this data on a roughly 1 square kilometer grid, shaded by how much change has occurred.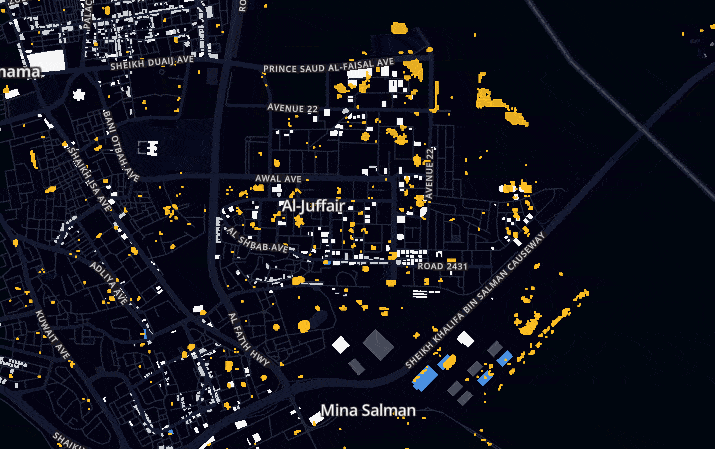 View change at the city level and the block level.
Change is hard
The value of Urchn starts with the quality of the change data.
Automatic change detection at scale is an extremely hard problem. Most change detection is done at the pixel-level, and this creates a lot of false positives. Differences in shadows, haze, and seasonal change get captured as change.
Our algorithm for detecting persistent change is extremely robust. We analyze a stack of imagery from consecutive passes of Sentinel-2 satellites. Using this time series information we can filter out most ephemeral and uninteresting change. The results of our automated detection are then human curated to ensure that you see only real, meaningful change on the ground.
Join us!
We are actively developing this tool with Radiant Solutions, with the goal to serve planners, mappers, and development practitioners by providing actionable data on urban development and degradation. If this tool could impact your work, we'd love to hear from you.
If you're attending FOSS4GNA in St. Louis this week, Matt Hanson will discuss this work and other approaches to monitoring urban change Tuesday afternoon.
Without open imagery data, and the infrastructure that delivers it to end users, tools like this would not be possible. We're currently looking for engineers versed in AWS, with a passion for open data.