Satellite imagery companies spend billions of dollars acquiring pictures of the planet. However, anyone who has worked with that imagery knows that the tools for searching and accessing this imagery are painful to work with. That's why we are excited to be working with Astro Digital to build a fast, easy, imagery browser. To do that, we are relentlessly reducing friction and creating something that feels more like Airbnb or Pinterest than traditional GIS-based imagery browsers.
Astro Digital's strategy is built on making imagery easy to integrate across every industry. Here is how we worked with them to bring usability to image browsing:
Discover
A primary goal is to eliminate the steps required to start looking at imagery. Astro Digital discussed the "bounding box problem" — traditional imagery browsers require you to provide a bounding box to start a search. The user either has to outline a polygon or upload a file with the bounding box. If the bounding box is too big or returns too many results these sites often require you to start over.
Our solution? Just zoom.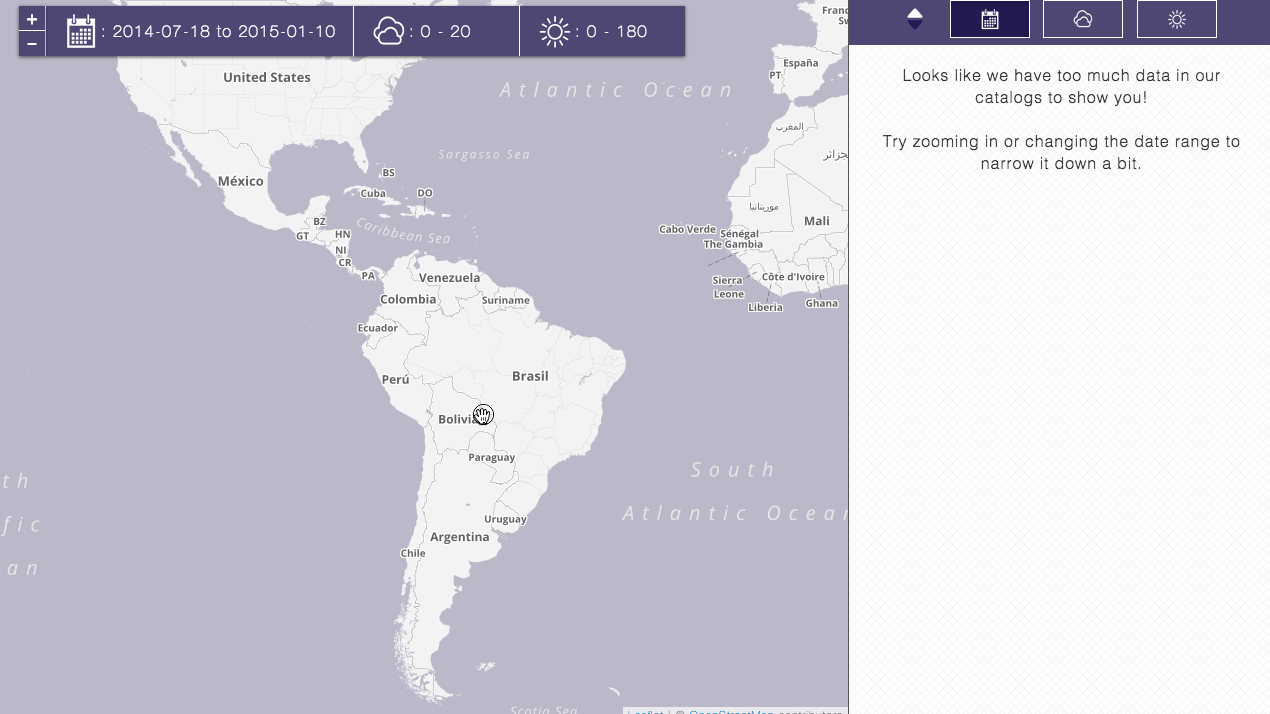 We will explore options for advanced search that may include boundary uploads, and those interactions will follow the same simple design concepts foundational to a good user experience. As we add those features, we will preserve the ability of users to immediately start interacting in a manner they expect from a modern website.
Responsive filter and sort
Once the user has identified their area of interest, the next step is sifting through all the returned images to find the best one for their needs. We've made this easier through visual filters and sorting tools that help you quickly get to the best image. Familiar icons allow users to filter and sort without having to learn the interface. We included visual tools like a histogram on our filters to help users intuitively understand the implications of their filtering choices. Sorting assumes "best to worst" to make sorting easy and to surface the best images. All along, we provide thumbnail previews of each image so that you can immediately see what you are getting.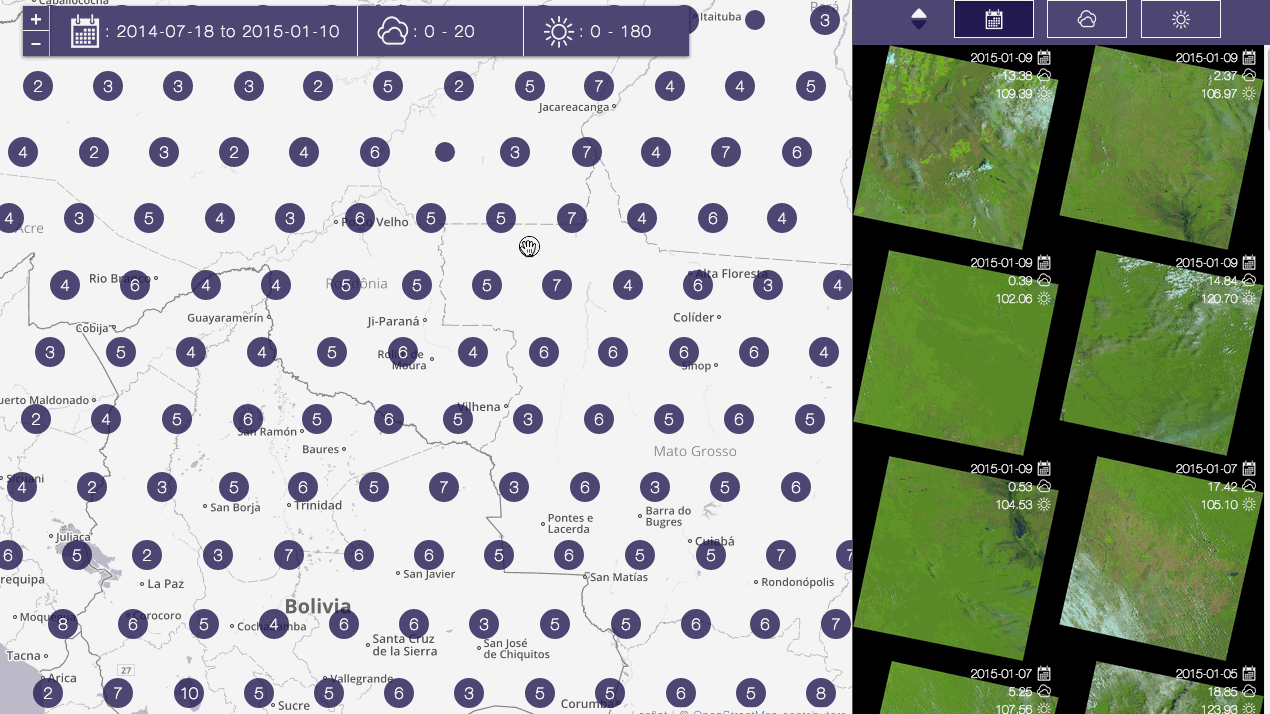 Making the interactions obvious
Our aim is to create interactions that seem natural without the need for a website tour. Moving around the map shows coverage areas. Selecting an area filters results to that geography. We benefited here by using Landsat imagery that has a consistent bounding area, but we believe we can keep this intuitive even with different shaped scenes. To keep user interaction from breaking, we did a lot of work under the hood to make the site fast and responsive even while loading a lot of data and images. With a streamlined request process, once you've found the right image, you can download or purchase in one click.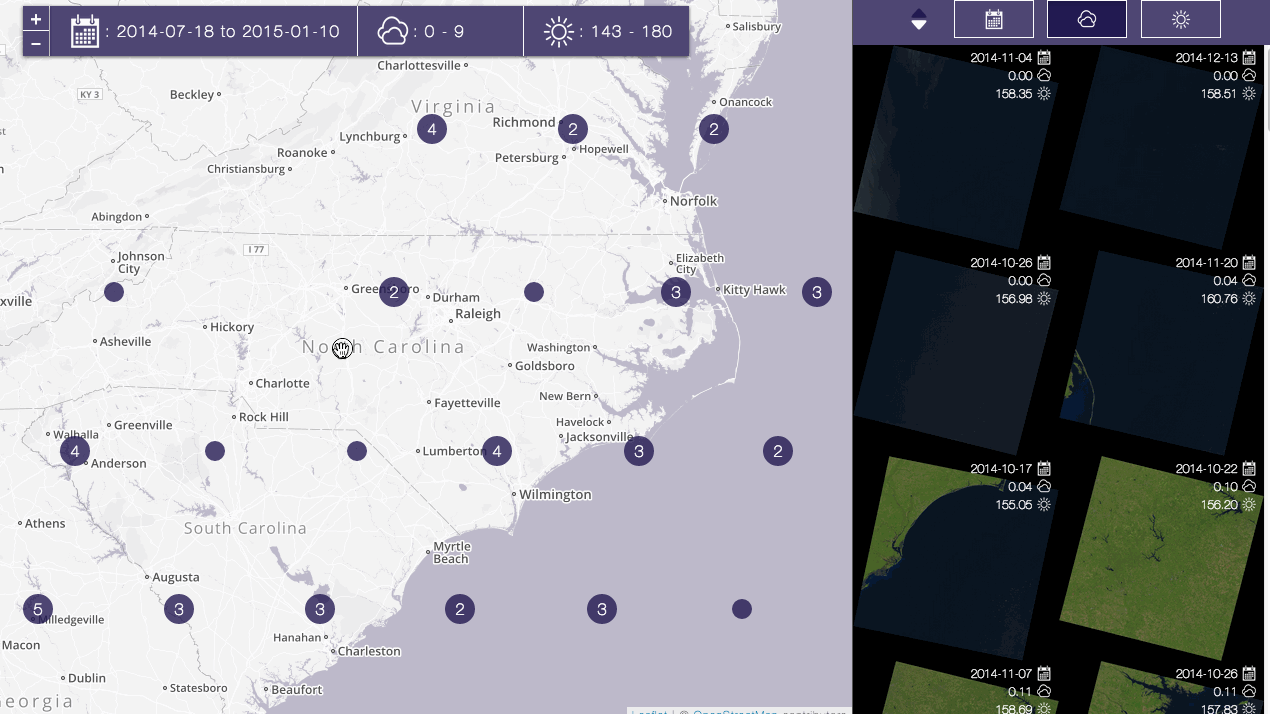 We were able to quickly stand up a fast mapping application by building off the Mapbox stack. Simple, intuitive tools make it easier for more sectors to benefit from satellite imagery. As we help global development organizations and emerging economies to use imagery products, usable tools will be critical. We think existing imagery users will also appreciate having a more enjoyable relationship with their imagery finder.
Feb 16 2015: We've updated this post to reflect the Dauria Geo name change to Astro Digital.